The concentration of spiritual and artistic wealth in the Sistine Chapel is immeasurable! The chapel located in the Apostolic Palace is best known for its frescoes that cover all its walls and even the ceiling. However, one of the most important duties of the chapel is as the venue of the Papal Conclave which determines who the next Pope will be.
The Sistine Chapel was restored between 1477 and 1480 and the beautification included the creation of the wall frescoes by artists like Sandro Botticelli, Pietro Perugino, Pinturicchio, and Rosselli. It is Michelangelo who gave it the crowning glory, the painted vaulted ceiling completed in 1512, and finally 'The Last Judgement' in 1541.
The Sistine Chapel is considered a turning point in the sphere of art in the course of human civilization. It was endeavour that was never attempted and has never been after that!
Sistine Chapel Highlights

The Ceiling Frescoes
The numbers of the Ceiling of the Sistine Chapel are mind boggling! Michelangelo painted over 5,000 square metres of area that is approximately 40m long and 13 m wide, at a height of 21m. The frescoes depict over 300 Biblical scenes, the most famous of the nine stories from the Book of Genesis. The high Renaissance art work took over four years, from 1508 to 1512, and was made painstakingly while standing upright on a special scaffold designed by Michelangelo himself.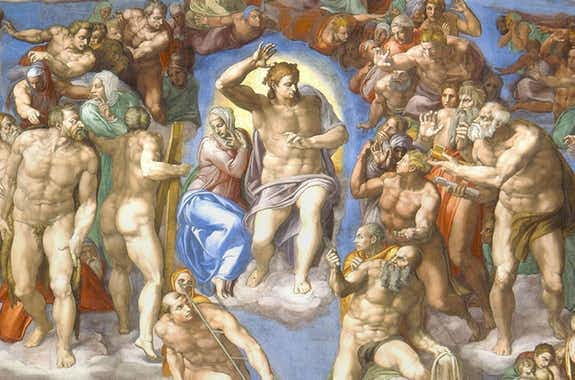 The Last Judgement
The Last Judgement is one of the most important legacies of Michelangelo. The fresco located in the Sistine Chapel with humongous dimensions (13.7m X 12m) took over four years in the making, from 1536 to 1541. The painting depicts the Second Coming of Christ and the final and eternal judgment by God of all humanity. With over 300 figures, the detailed painting showcases finesse in human form and was in fact controversial during its time due to the nudity, but was later covered up by another artist!
Book Your Tickets